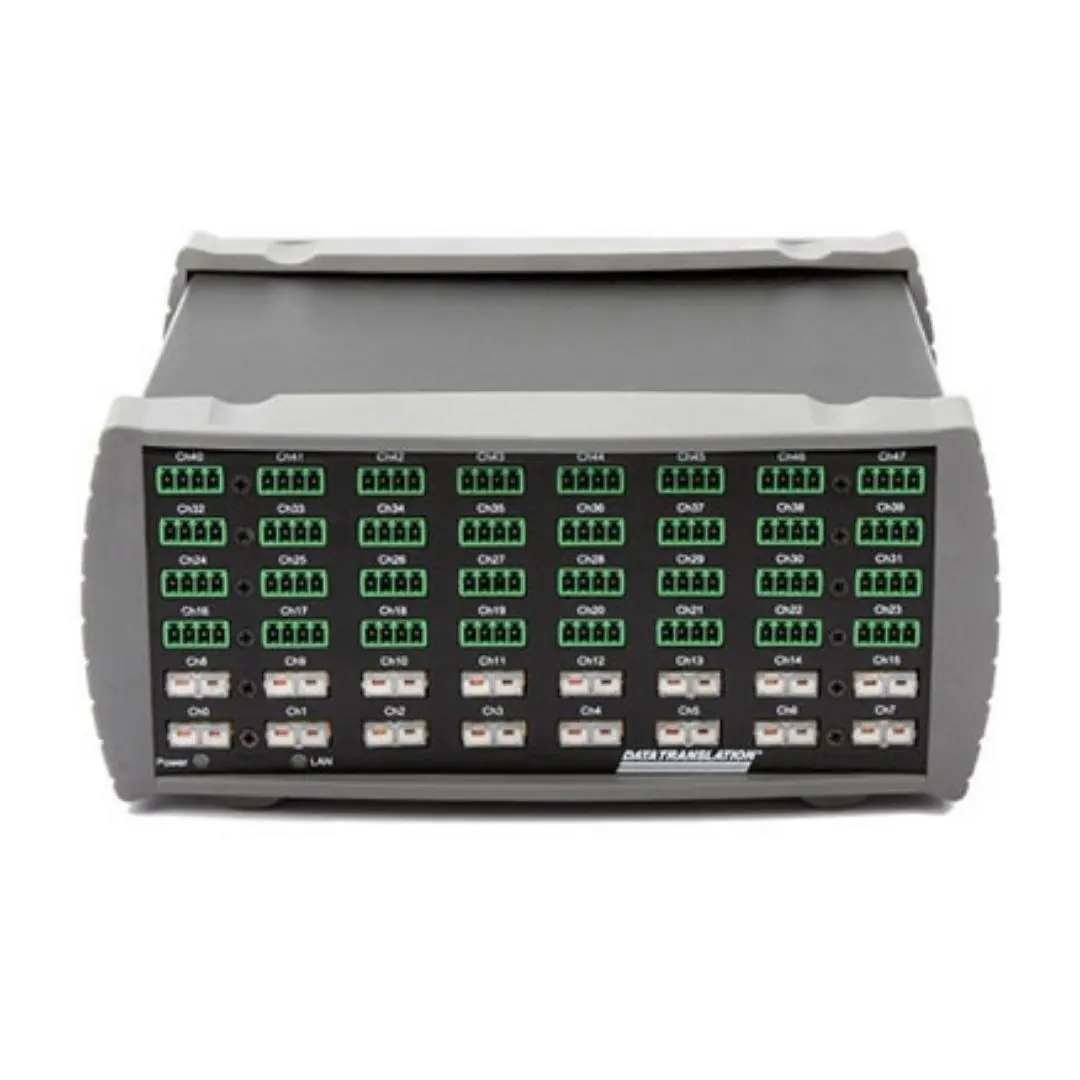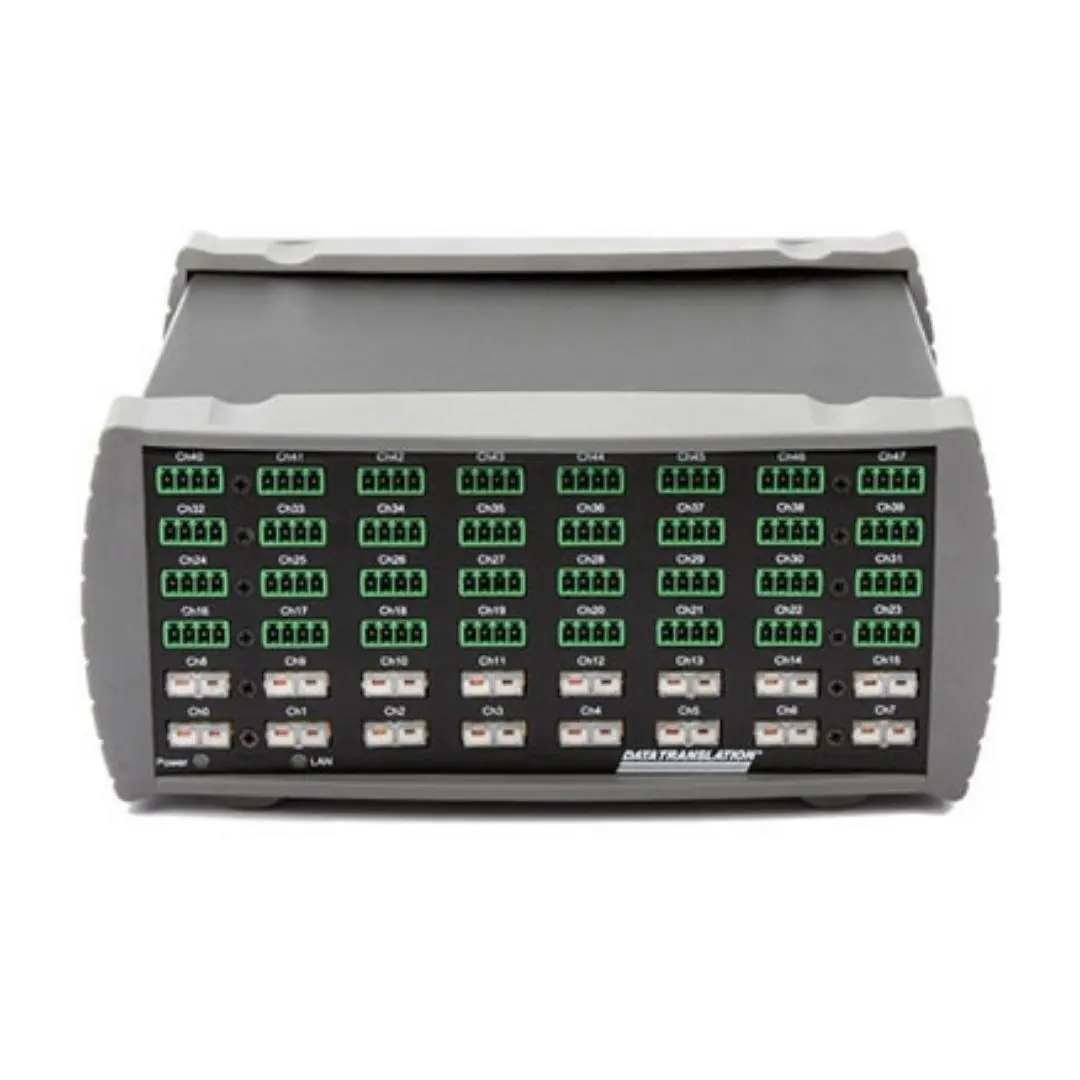 The DT9874 MEASURpoint USB data acquisition (DAQ) system
Overview about the DT9874 MEASURpoint USB data acquisition (DAQ) system
The DT9874 MEASURpoint USB data acquisition (DAQ) system provides simultaneous analog input along with any combination of isolated temperature, resistance and voltage measurements This device features one A/D per channel and auto calibration in a rugged half rack enclosure for immediate productivity.
MEASURpoint is an ultra-accurate instrument for measuring any combination of thermocouple, RTD, or voltage inputs with the QuickDAQ application. MEASURpoint is available as a USB or Ethernet (LXI™ Class C compliant instrument).
MEASURpoint includes the QuickDAQ application to configure and acquire temperature, resistance, and voltage channels, and to display, log, analyze, and export data to other formats including Excel.
Key Features
Dedicated 24-bit: Delta-Sigma ADC/ch
8DI to 48DI simultaneous analog inputs
Sampling rates: up to 10 Hz/ch
Software selectable ranges of ±10 V and ±60 VDC (±30 VAC) on voltage boards.
30 VAC, 60 VDC continuous functional isolation ch‑ch and ch‑gnd, verified by a 500 Vpk withstand.
Auto-calibrating front-end: resets the zero point on each power-up
Measurement Instrument Calibration Utility: allows in‑field calibration
Digital I/O: 8 in/8 out
Packaging options: compact, rugged 2U, half-rack enclosure.
Thermocouple Input channel Features:

Voltage input range: ±75 mV
Dedicated CJC (cold junction compensation) input for each thermocouple channel
Supports B, E, J, K, N, R, S, and T thermocouple types
Break-detection circuitry: detect open thermocouple inputs

RTD Input channel Features:

Voltage input range: ±1.25 V
4‑wire, 3‑wire, or 2‑wire PT100, PT500, and PT1000 RTDs supported

MEASURpoint Software Features :

QuickDAQ: Acquire and display from all Data Translation USB and Ethernet devices that support analog input streaming. Acquire data, record data to disk, display the results in both a plot and digital display, and read a recorded data file. Two additional options can be purchased to add FFT analysis capabilities to the base package. Also, data can be exported to other applications like Microsoft Excel® and MATLAB® for more advanced analysis
IVI-COM driver: Works in any development environment that supports COM programming, including Visual Basic®, Visual C#® .NET, MATLAB®, VEE Pro, NI LabVIEW® or LabWindow, and others
SCPI support (DT8874 only): SCPI (Standard Commands for Programmable Instruments) is a universal programming language for electronic test and measurement instruments, based on the IEEE 488.1 and IEEE 488.2 standards

Supported Operating Systems • Windows® 10/8/7/Vista®/XP 32/64-bit
*Learn more about MCC: Here
*Fanpage: DIGI TECHNOLOGIES
 
ANALOG INPUT
CHANNELS
RESOLUTION
MAX SAMPLE RATE
SAMPLING
Up to 48
24-bit
10 S/s/ch
Simultaneous
RANGES
ISOLATION
±10 V, ±60 VDC (±30 VAC)
±60 V ch-ch (functional)
±500 V ch-ch (peak withstand)
SENSOR
THERMOCOUPLE
RTD
THERMISTOR
VOLTAGE
Yes
Yes
—
Yes
ANALOG OUTPUT
CHANNELS
RESOLUTION
SPEED
—
—
—
DIGITAL I/O
CHANNELS
COUNTER/TIMERS
ENCODER
16
—
—
 
SOFTWARE
POWER
OS SUPPORT
DRIVERS
POWER
Windows®
MEASURpoint
External
Related Products
Unsolicited failed error
Please resend information
You have successfully submitted